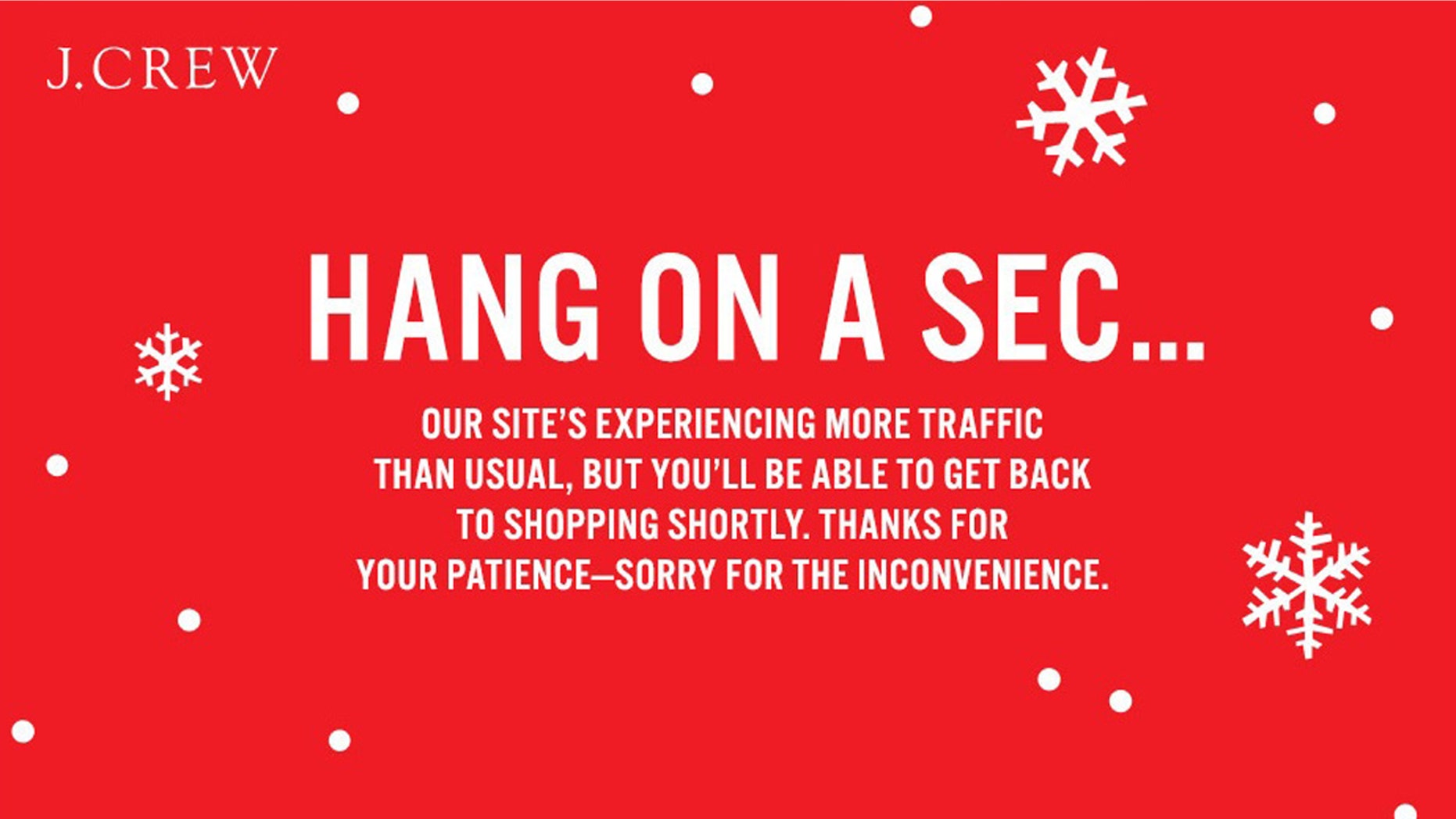 The above message was found on on J.Crew's site Friday as people got stuck online trying to save more with the Black Friday discount deals.
This unofficial start off of Black Friday holiday shopping has left many stranded online — few major retailers have suffered technical difficulties with their webstore just as they were setting out their Black Friday deals.
Walmart first reported delays beginning as early as Wednesday. but said that most shoppers were able to proceed with their orders "smoothly."
"Due to extremely high demand for our Black Friday deals Wednesday night, our site experienced some delays shortly after our event began online," company spokesman Danit Marquardt said in a statement. "Many customers were still able to check out smoothly, and we were able to quickly fix the issue."
J.Crew took to Twitter on Friday morning to announce that it, too, was experiencing "technical difficulties."
Despite assurances that work was progressing to get the situation corrected, the website was still down six hours later.
Shoppers were less than pleased early Thanksgiving Day when visiting the website for the popular athletic clothing brand, Lululemon.
"But will I ever be able to complete my purchase!?" on person took to Twitter to complain.
"I have been online for 3 hours now trying to make my purchases. Things keep getting removed from my cart, and other items that were available are now sold out. NOT HAPPY!!" another shopper said.
One retailer reported having a down website due to "maintenance" which left many consumers looking for another option.
HOW TO GET THE BEST OF BLACK FRIDAY SHOPPING EXPERIENCE
"We apologize our website is down for maintenance. It will be available soon," Lowe's said in a tweeted reply to one vexed customer.
"Since @Lowes is down I'm gonna go to @Sears and @HomeDepotDeals #BlackFriday," one person said on Twitter.
Despite all the reported outages, digital sales are on track to exceed $6.4 billion on Friday, Fortune reported citing Adobe analytics.
According to the report, $643 million was made in online sales as of 10 a.m. Friday.
GOT Update     Get Best of Black Friday Shopping      EVERY WOMAN DESERVES THIS